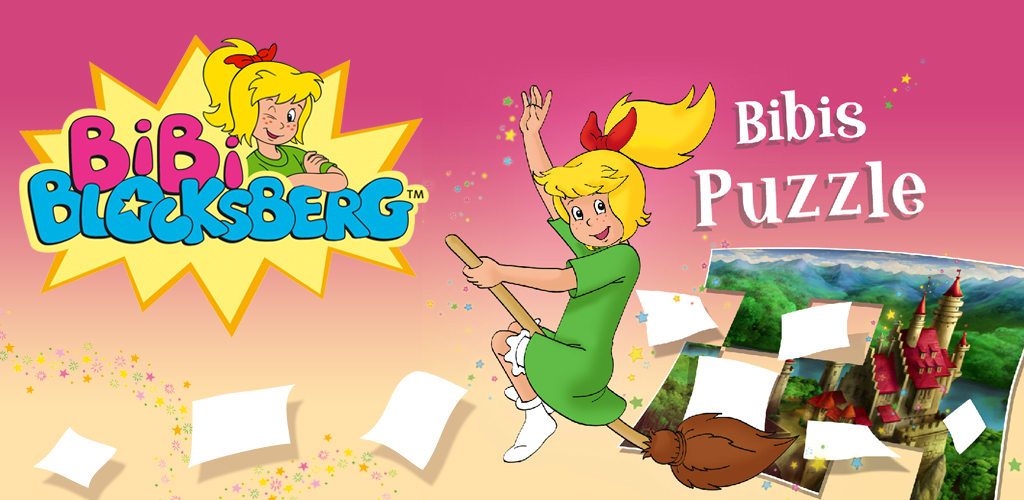 Bibi's Puzzle proves that a puzzle game can also be played by two people – whoever is faster at finding the correct pieces wins. The new app starring Bibi Blocksberg has 50 unique puzzles, new puzzle physics and different versions for smartphones and tablets.
In the single player mode the pieces can be put together in a conventional manner. But there's something unique here too! The pieces appear on the screen one after another for a short time. Good reflexes and quick thinking will be awarded with points.
In another game mode, the player must select the correct piece of the puzzle that fits a particular part of the image out of three similar elements. It's even more exciting than it sounds because of the time limit!
The application is available for iPhone, iPad, iPod Touch and Android smartphones and tablets. The free Lite version comes with 10 puzzle sets and a full version is available for the introductory price of 1,79 Euro (2,69 Euro after two weeks).
Features:
New puzzle physics
50 puzzle motives from the bewitching world of Bibi Blocksberg
Time-based puzzling by 'Search & Find' and two 'Drag & Drop' modes
Versus-Mode to compete against each other simultaneously on one device
50 different levels from Bibi's world!
Flipping motives
Rotating puzzles
---
Chromatrix developes and publishes games for mobile platforms, browsers and PC since 2000. Chromatrix received numerous awards for their 'Das Schwarze Auge' series, most important being: the 'Deutschen Entwicklerpreis' for the Best Mobile Game of 2004 and 2005, the Best Browsergame of 2008 and the RPC Fantasy Award 2010.
b-interaktive Since 2011, b-interaktive has been turning classic tabletop games into apps for smartphones and tablets. Today, the young company with 30 employees in Schwerte, Germany, and a branch office in Poland has raised the bar in the international mobile business. b-interaktive relies on renowned partners and global collaborations to create innovative products and connect people around the world via the modern mobile platforms such as iOS, Android, Windows Phone and Windows 8.
KIDDINX is responsible for both the national and international licensing sectors, the optimal utilization of digital business areas, and brand expansion for the group. It operates various portals for children, character channels on YouTube, as well as online and download shops with mobile applications (apps) for smartphones and tablet PCs, as well as downloadable audio and video content.  Where publishing and licensing are concerned, the goal is to strengthen the brands' reach by working together with merchandising partners to create attractive licensing products. KIDDINX Media GmbH also markets the TV rights to its animated series worldwide. Its TV-Portfolio comprises not only its own animated series, but also selected children's programs from other producers.
CONTACT:
b-interaktive GmbH
Eugen Barteska
Managing Director
Tel: +49 2304. 338 2391
E-Mail:
ebarteska@binteraktive.com
Lohbachstr. 12
58239 Schwerte